Cienfuegos, one of Cuba's largest cities, located on the Bahia de Cienfuegos.
When planning our trip, we wanted to stay here longer, but ended up visiting this city on the way from Trinidad to Playa Larga. We spent just a few hours here, which was more than enough to get a feel for the atmosphere of this city.
Sightseeing in Cienfuegos
Cienfuegos can be called the Cuban Paris. Founded by French immigrants, Cuba 's elegant, expansive, vibrant city with its historic center is a Unesco World Heritage Site. The city definitely stands out from other Cuban cities for its architecture, well-kept and renovated buildings, and well-stocked stores.
At the very beginning, we drove by car to Punta Gorda – it is a promontory with impressive palaces from the early 20th century. Driving to the very end, we have the impression that we are in a neighborhood of the rich: big houses with gardens, evenly trimmed lawn, better cars. Among other things, we saw the Palacio de Valle, which now houses a restaurant. Building as if transferred from Arab countries :)
We then drove to Parque Jose Marti, the central square with the city's triumphal arch. Around the square are: Catedral de la Purisima Concepcion, Casa del Fundador, Palacio de Gobierno, Museo Provincial, Casa de la Cultura Benjamin Duarte, Colegio San Lorenzo and Teatro Tomas Terry. The buildings are well-kept and renovated that it's so nice to sit in the square on one of the many benches and just relax for a while.
We continued toward the main avenue – Paseo El Prado, passing numerous "boutiques" with fashionable clothes and home furnishings stores along the way. We had the impression that this is where the richest Cubans come to "shop."
Of course, it was not without ice cream at the local Copelia, this time on the rich side :)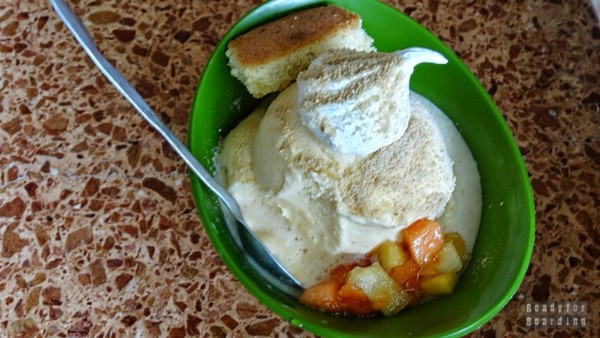 What else is worth seeing in Cienfuegos? As in Trinidad, it's worth walking the narrow streets away from the main square. Some, surprisingly, are as well-kept as the strict center. However, there is also no shortage of those that are more constipated.
We spent a few hours in the city and continued on towards Playa Larga….