Havana simply cannot be described in one post! So many things to see, so many things to describe! We spent a total of 3 days in Havana and each time she showed us a different face!
Havana sightseeing continues….
Continuing with the first part of our coverage of our visit to Havana, we start where we left off, that is, in the square under the Havana Cathedral (Catedral de la Virgen Maria de la Concepcion Inmaculada), where we met Martina's colleague ;) The square itself and the cathedral are very charming. In our opinion, this is one of the most atmospheric places in Old Havana.
Right next door is one of the most popular places in Old Havana – the bar La Bodeguita del Medio, where Ernest Hemingway sipped Mojitos while creating his works. We went there, while exploring the old city. It was the most expensive and probably the worst mojito we drank in Cuba ;) In general, the place is interesting, atmospheric with interesting scenery, but overrated, and mojitos made on a mass scale lose their charm. Nevertheless, we recommend you nevertheless this place as one of the must-see spots to judge for yourself the quality of Mojito in this famous place :)
Heading west, you will reach the 13 Marca Square, which is located just above the sea (at the exit to the tunnel – Paweł will write about it later ;)). The Museum of the Revolution is also located on this square.
Sunset at El Malecon
Just outside the square is one of the most popular places in Havana for both tourists and locals. Take a walk along the 3 km long promenade along the sea, called El Malecon. We especially recommend watching the sunset :) This is where young people spend their free evenings, and just before sunset there are lots of small stalls with food and drink.
Revolution Square and New Havana
While in the capital, you should also go to Revolution Square, a symbolic place with distinctive images of Che and Camillo. Couldn't miss a photo of him jumping in such a place :)
The square itself impresses with its grandeur and the José Martí Memorial monument towering just above it. We were in the square just on May 1, when there were hectic preparations for the May Day festivities :)
A few days later, the weather was much nicer, although, contrary to appearances, an overcast sky is more welcoming than a full swelter….
Heading north from the Plaza de la Revolución, we come to the Avenidas de los Presidentes, an avenue with a pedestrian mall in the middle that features effigies of South American leaders (well, why limit yourself to Cuba). On one side is a large monument to Jose Miguel Gomez (Cuba's second president), and at the other end is the remains of a statue of his predecessor, Tomas Estrada Palma.
Walking down the avenue, we have the impression that we are in a completely different country – a more developed, richer one. Nicer houses, neat gardens, green lawns, bars well and those sprawling trees:
What else is worth doing/seeing in Havana?
The monstrous hospital, towering over the city, is also worth a look. We were shivers all the way when we looked at it every time :)
When touring Havana on foot, it's also worth taking a look around the University. It is located near the Havana Libre Hotel and the Avenue of Presidents.
Ice cream in Havana
We also recommend going for ice cream at the famous Coppelia just outside the Havana Libre Hotel. An iconic ice cream parlor where you have to wait your own time before they even let you enter, and then wait for them to show you a place to sit. God forbid you sit in a different seat it messes up their entire workflow!
It's also normal to sit with strangers, because every seat counts and chairs can't go to waste. Of course, if you are a bourgeois (tourist) you can use the entrance without a queue and pay in CUC (more expensive currency), but we stood with the locals and paid about 5 times less for our ice cream.
In front of the entrance, a plate with a dizzying selection of flavors and types of desserts awaits. Just in time something for me – a person who has problems with making the least important decisions ;) I couldn't decide whether to choose strawberry or strawberry ice cream ;) The first time they nudged us a bit, not giving us change (but let's not kid ourselves, we paid pennies for the ice cream anyway), and the second time we already knew exactly what the prices were, the types and what was on the menu ;)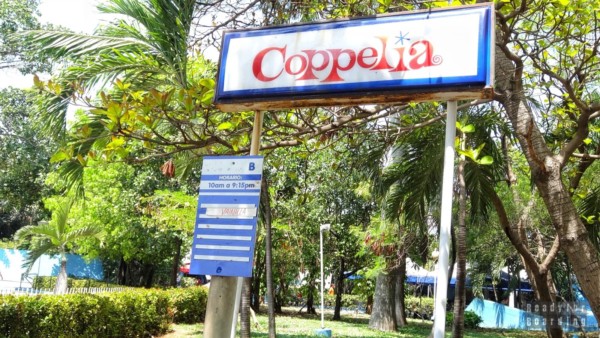 Cubans simply deserve ice cream. Store shelves may be empty, but ice cream is always there! They come to the ice cream shop with the whole family, order huge quantities, a large part of which they pack into thermoses to take home ;)
Food in Cuba…
As for food, we have a choice of "windows" or restaurants. In the first one we will eat sandwiches or pizzas and sip fresh fruit juice for little money. For us, it was enough to fly around the capital all day. In restaurants, of course, it is more expensive, more civilized. With a candle to look for pubs with Caribbean cuisine, we'd sooner eat Chinese or Italian pasta – these are the kind of restaurants Cubans recommended to us.
Prices in such places are European, although conditions are Cuban (e.g., the lady handing out toilet paper in the restaurant). It is also common to find local variations of popular dishes, using local fruits, vegetables and fish. Food in Cuba is a river-topic so we will devote a separate post to that as well, and for now a foretaste (literally!) :)
In conclusion!
Havana (as well as all of Cuba) is a city of contradictions: poor kids flying around with smartphones, empty yet full of shelves of things people simply can't afford. In Havana, you can see these disparities among residents, but you can also see the hopes that are associated with the opening of tourism to the US. People are living it and already looking forward to the dollars flowing. We are very curious about what will happen to this city in 2-3 years. Maybe we will be able to see for ourselves :)
Welcome to Havana – part one >>>
We also invite you to visit our gallery: