Vinales – a town surrounded by beautiful limestone hills and large colorful tobacco plantations. The region is considered one of the most beautiful natural landscapes in Cuba, so we couldn't miss it.
Here we also had the only accommodation, which we booked from Poland, because it was highly recommended by the Lonely Planet guidebook. As it turned out later, this was our worst night….
Road to Vinales
The road to Vinales passed quite quickly (for Cuban conditions, of course). We hopped on the highway and drove it all the way to Pinar del Rio, the capital of the western part of the island. From there, it's straight south to Vinales. Although we had one small surprise…. ot there was a tank standing in the middle of an empty highway! :)
The trip from Playa Larga to Vinales although it runs almost all the way along the highway is long and tiring (keep in mind the quality of these wonderful "highways"). Good thing at least that we had nice weather and cold tuKola :)
Before the village itself, we stopped at a postcard-perfect vantage point from where we had a panoramic view of the entire valley. There is a charming restaurant(Balcon de Valle) where you can dine on a platform overlooking the beautiful limestone pits.
After a few photos, we headed to our destination. Although, of course, there was no way to miss our skip :)
Vinales only for tourists?
As soon as we entered Vinales, the first thing that caught our eye were the accommodations. Not one, two, five… Quarters are here at every turn! We had the impression for a moment that there were no houses here at all, with only Cubans living here (officially, the population of the village is nearly 30,000).
It is clear that the village is geared towards tourism. Aside from the number of accommodations, here too there were solicitors at every turn wanting to sell either super tours of the area or original cigars. In the center you will find several offices that also have a wide range of tours, plenty of souvenir stores, as well as a small market with canopies.
Restaurants also caught our attention – they were not window shopping (although they happened too), but places serving European and Asian cuisine, with richly decorated interiors, white tablecloths and professional service. Prices of food, drinks also European.
Recommended accommodations not always the best….
We were able to find our cas particular fairly quickly, where we were to spend two nights. We were greeted and welcomed by a Cuban woman who knew something in English, but unfortunately the rest of the staff didn't even know the basics, so communication was a bit difficult.
We got a room with a bathroom on the first floor, with a separate entrance. For guests, a terrace was available, where meals were served, with a lovely view of the surrounding area. Wasting no time, we quickly dropped our stuff and went for a walk around the neighborhood.
But before about sightseeing, we want to write a few words about the accommodations recommended in the guidebooks. Tan as I mentioned earlier was recommended by Lonely Planet. At a normal price and with a super sensational rating. Unfortunately, our opinion of this casa is quite different. No Cuban hospitality, everything terribly commercial, food like in a restaurant.
Besides, we were to spend two nights there. After the first one, they moved us to a friend's place at the other end of town, because…. well… If they spoke at least a little English. Fortunately, we had already ended up there with a typical Cuban, smug family.
This was our first time using the guide's advice when it came to lodging (we were not usually disappointed with the food). Maybe we just got it wrong, but Lonely Planet unfortunately let us down ;)
Sightseeing in Vinales
In the city itself, the main attraction is the church located in the heart of the city and those in close proximity: Art Gallery and Museo Municipal. Besides, let's not kid ourselves, there's nothing to do here, so it's better to get in the car to explore the area :)
We set off towards one of the most original (yes, that will be a good word…) attractions of the area, the Mural de la Prehistoria. We knew what it looked like, but we still wanted to see with our own eyes how much a piece of rock can be destroyed.
At least it is located in a beautiful area :)
You pay to enter (and the entrance is guarded by a truly wild animal ;) ), but why when this thing, which is 120 m high, can be admired from a further perspective. Most interestingly, the work on the mural took 4 years! The important thing is that the work was for our companions ;)
After this very inspiring encounter with art (premeditated with a small "s"), we went to dinner, which more than the taste delighted us with the form of serving :) The evening with drinks, on the terrace overlooking the mountains was the icing on the cake :)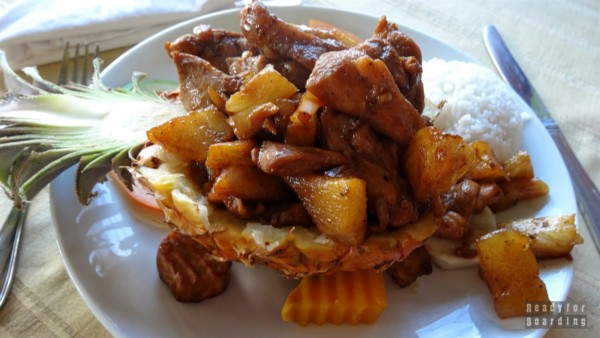 Also interesting is the "public transportation" and its frequency and capacity…. Anyway, see for yourself :)
Also recommended for you in the area are the Cuevas de Santo Tomas, which are caves that can be traversed by boat. However, we ran out of time for them.
We preferred to spend some time in…. about it in the next entry, which is Cayo Jutias, or paradise beach in Cuba! :)