We've already written a bit about the Faroe Islands so it's time for a recap and some practical advice (although that's not our last word yet ;-))
We can summarize in one sentence – it was our most interesting trip in 2017! Yes, the Faroe Islands have won our hearts and we keep returning our thoughts to Faroe. Maybe that's why there are so many posts on this topic – until one wants to describe and show the natural beauty of the archipelago, small, quiet villages, grassy slopes and, of course…. sheep! :)
Although to some they seem too distant or disconnected from European realities, it is the prevailing tranquility, small population and clean air that make you want to return. But lest it be said that the Faroe Islands are the perfect vacation destination, be aware that Faroe is expensive and the weather is not pampering.
Below you will find a little practical information about weather, costs, car rental, getting around locally, food, safety…. and by the way, read for yourself :)
How to get to the Faroe Islands?
The easiest and fastest way is to fly via Copenhagen. We bought our ticket on the SAS website, but the Faroe Islands section is usually served by Faroese airline Atlantic Airways, although SAS itself already flies there, too.
It is relatively inexpensive to fly to the Faroe Islands. We paid for a combination ticket from Warsaw approx. PLN 1,600 without any promotion (unfortunately with a rather long transfer in Copenhagen). Recently, tickets have been cheaper, even at 1,300 zloty. Super cheap, of course, it is not, because for this price you can easily fly to the States, but such are the charms of little touristic places :)
The flight from Copenhagen was very quiet, yet spectacular. It was bright and slightly cloudy during the landing, but we could easily admire the undulating, grassy terrain as well as Lake Sørvágsvatn.
Planes land at the only airport in Faroje, namely Vágar, where it's best to have a car already booked waiting for you :)
>>> Polecamy również nasz eBook "Wyspy Owcze" za jedyne 19,99 zł! Wszystko w jednym miejscu, a w nim 149 stron pełnych inspiracji, opisów i praktycznych porad.
It is also worth mentioning that the Faroe Islands airport is not an easy airport. Strong winds, infrequent cloud cover and generally capricious weather mean that flights are often delayed or even canceled. Nevertheless, we managed to get there and back without any problems, although the thrill was there. For that, the views during landing and takeoff (as long as the clouds don't cover everything) are amazing!
Costs, purchases and alcohol
While the flight itself is not expensive, a much bigger expense will be accommodation, car rental or food on site. Simply by going to the Faroe Islands you have to reckon with it. Dining out is expensive and, unfortunately, the selection is quite modest (often limited to burgers, hot sandwiches or pizza), which, incidentally, reminds us a lot of Iceland.
Grocery shopping is recommended to do in discount stores: Bonus or FK – well stocked, prices of basic products more expensive than in Poland but to survive ;-) It should also be added that the water in the taps is drinkable so there is no need to buy bottled water in the store, but only to take some kind of bidon (or even a thermos, because, however, warm tea is always a good option in Faroe).
If one wants to buy stronger alcohol in the Faroe Islands then one will have to go through a lot of trouble. Only low-percentage beer is available in markets, and stronger liquor (i.e., over 2.8%) can only be purchased in special liquor stores (Rúsdrekkasøla Landsins). There are all 10 of them (3 of which are in the capital Tórshavn), and they close at 6pm at the latest.
We wrote in detail about costs and purchases here (also with sample prices).
Weather
The weather is not spoiling. The Faroe Islands are rainy and windy, and it rains here 280 days a year. Sometimes they are rains that last all day, and sometimes they are short rains. The weather is changeable and you always need to have some good rain jacket with you.
Anyway, in Faroe they say "If the weather doesn't suit you, just wait another five minutes."
Then maybe at least the temperature will be higher? We won't experience a hot summer here, so there's no need to get ready for sunbathing. The average temperature in the warmest months (i.e. July and August) is about 10-13 degrees. Celsius. During our stay there were even two days when it was about 15-18 degrees and you wanted to take off your jackets :) In addition, the temperature whether day or night varied between 11 and 12 degrees Celsius.
As with the cost – you simply have to prepare properly for such weather, as we wrote about in detail here.
Are the Faroe Islands in the European Union?
Here the matter is not so simple :) The Faroe Islands are a dependent territory of Denmark, but they are neither in the European Union nor in the zone of the Schengen. Therefore, you need a passport to be allowed into the Faroe Islands (visas are not needed).
So much theory. In practice, flying to Denmark, a passport is not required for obvious reasons, and in Copenhagen, during the transfer, no one checked it either. After landing in the Faroe Islands, there are no controls either.
The situation was similar on the way back. Nevertheless, without a passport we wouldn't go ;)
Car rental
If you want to see as much as possible in the Faroe Islands then we recommend renting a car. We won't elaborate on the benefits of a rented car, but in the Faroe Islands, where the weather can surprise, it's always good to have a means of transportation with which we can go to the less rainy end of the island ;)
The most important information about moving a car: a sheep always has priority! If you see a sheep slow down, because she may jump into the road right away.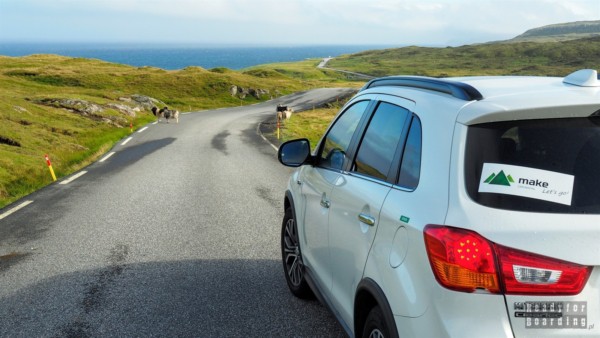 Roads are free, but tunnels between islands are not. In the car we rented there was a special chip that automatically read how many times we drove through the underwater tunnels, and the corresponding amount was charged to the card automatically. You can also pay for rides at a gas station, but we did not practice this.
In general, it is very safe here. Both in terms of road safety and car break-ins. In such small communities, it is known what belongs to whom and where he has the funds for it, so there is no hiding the theft, and there is nowhere to haul away the stolen car, too.
We wrote about getting around the Faroe Islands by car here.
Security in the Faroe Islands
As for safety in general, there is nothing to write about :) We didn't feel safer than in the Faroe Islands anywhere (even in Iceland, which is just behind Faroe in our ranking). Zero crime, there is not even a prison here, and those who do something wrong have a trip to one of the prisons in Denmark.
On the streets of the "cities" it is extremely quiet, people leave their apartments and cars open, and in houses and blocks of apartments you can see everything, because no one covers the windows.
Some practical tips
Finally, a few more tips:
Currency – The Faroe Islands have their own local currency, the Faroese krone, but Danish kroner is acceptable (the Faroese krone is not recognized in Denmark).
Payment cards – most cards are accepted in stores and restaurants. And it was our main means of payment. We did not operate with cash at all. We had a few DKK in reserve, but the Faroese currency was not exchanged.
In the Faroe Islands, Faroese is the official language, and Danish is a second official language, though less readily spoken. English is popular in the Islands and we had no problem getting along anywhere in this language.
Electric sockets (contacts) are identical to those in Poland, although this is not quite obvious when you think how different the Faroe Islands are :) You won't have any problems charging and using your equipment.
It's hard to find a guide to the Faroe Islands, but don't worry – you'll find out everything at tourist information centers. They also have free maps and brochures available, which are quietly enough for you (in combination with car navigation) to see everything you want.
Although it is safe on the islands, the prudent always
insured
. In case of illness, unfortunate accidents, it is always better to have additional security. Especially since the EHIC card won't help here, as the Faroe Islands are not part of the European Union.
Summary
As we have mentioned more than once, the Faroe Islands are unique, and as long as you get over the rainy weather and not very warm climate, plus you like to spend your free time actively, this is a super destination for you :)
If you have any more questions about the Faroe Islands, feel free to ask in the comments. We will try to answer them all! :)