Are you planning a trip to Lithuania? We suggest what to see along the way, even before the border.
Just a year ago we would have flown straight to Vilnius, spending the whole day in the car. Fortunately, our Little Passenger motivates us to stop more often and drive shorter. This was our first further trip with Olive, and so the question of planning jumped to a higher level. Say goodbye to spontaneous trips and long hours on the road! …or at least for a while ;-)
A long trip to Vilnius?
When planning the trip to Lithuania, we had a lot of doubts and questions: first of all, we were worried whether driving almost 600 km would not be too much for Olive, especially since she is not a child who falls asleep in the car. The most important thing for us was that she should not spend the whole day in a car seat, which, however, does not serve the child if she spends too much time in it.
So we planned to take breaks every 2 hours, but we still preferred to find an overnight stay near the border and take it easy and rest one night, and head toward Vilnius the next day, stopping at several places in Poland along the way.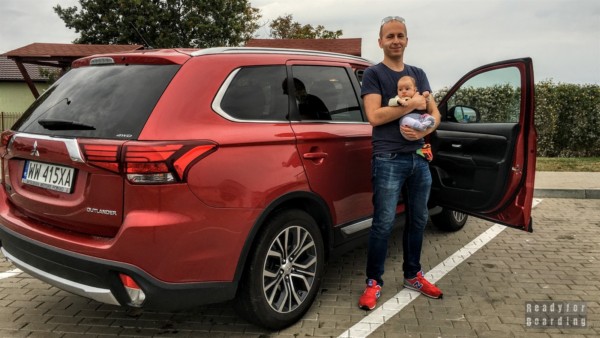 We like to explore new places and like to choose places away from the tourist hustle and bustle. In this case, the most important thing for us was to have accommodation on the way, in good conditions, well, and spacious, so that the stroller would fit ;)
Accommodation near Augustow
We found a very nice place near Augustow, on Lake Serwy – SIRVIS Apartments. The owners refer to the place as "their place on earth" and have made it so that it can also be our place on earth and yours. The resort is new, well-maintained and very practically landscaped.
We were given a "cancer" room, as indicated by the many decorations and accessories in the room.
Since we now pay attention to adapting resorts for families with children, here we especially liked the special room for kids with numerous games, books and toys. There were also attractions for those older children. Our hearts were also stolen by the posters and matching details in the common area.
Outside, from the resort there is direct access to the lake (!!!), and along the way we can use hammocks, trampoline, barbecue, deck chairs, etc. There are also canoes and boats, so in warmer weather you can go out on the lake. There really is something to do!
We are used to living in the city, in the hustle, bustle, noise, hurry. We've already forgotten what it's like to leave the house and listen to the silence. This place, helps to remember that :)
It was Olive's first night away from home. However, the place must have been to her liking, because she fell asleep without the slightest problem :)
We only regret one thing… that we only stayed here for one night! We highly recommend you this place :) We hope to return here again, necessarily for longer.
What to see under the border with Lithuania?
Our plans to explore the area were ambitious, but Olive thoroughly verified them ;) The plan spoiled slightly already when we left Lodz, or more precisely, before we set off. At one time we would have been concerned about a 2-hour delay, but we told ourselves before we left: we are going without hurry, without stress, without nerves. We are going to rest.
So we arrived in Augustow in the evening, and stopped mainly to eat something warm. Unfortunately, we didn't stay long and immediately drove towards the overnight stay. Although we recommend you to see the Sigismund Augustus Old Market and the Augustow Canal.
The next day, of course, we also failed to leave on time, but that didn't stop us from stopping at some interesting places along the way.
One such place "on the way" is the village of Giby, where the noteworthy wooden St. Peter's Church. Anna.
Another place, although not directly "on the way," is the town of Sejny, where it is a must see the Basilica of the Visitation of the Blessed Virgin Mary, the Podominican Monastery and the White Synagogue.
The aforementioned Basilica traces its origins to the 17th century, when the church was built by Dominicans brought from Vilnius. At its back is a monastery, the interior of which can be visited for a fee.
There are quite a few more places in the area, and the region also offers many opportunities for active recreation (bicycles!). Unfortunately, it was just a stopover for us on the way to Lithuania, but we are confident that it will not end there and we will return to this area :)
Zobacz galerię wszystkich zdjęć >>>
We recommend you our other posts about Lithuania.
We went on a trip to Lithuania thanks to Mitsubishi Motors Poland.