We rush to you today with a list of interesting places and attractions for families with children in the Tri-City. Whether you're here for the winter vacations, a weekend or a vacation, what do you do when the weather plays tricks on you and doesn't encourage you to go for walks and spend time outdoors? We give you a hint below!
It is said that there is no bad weather there are only unprepared tourists…. Probably so, but there are also people who, instead of getting wet or freezing and ticking off just more places, want to have a peaceful, stress-free and just nice time. Even more so when traveling with children, we want to have contingency plans ready to spend time away from the hotel, yet dry and warm.
What to do with your child in the Tri-City?
Where can you go with your children in Gdansk? Gdynia? Sopot? Especially when it's raining or the temperature outside doesn't fill us with joy to spend a few hours there with our kids? :)
There is no shortage of such places in the Tri-City. Anyway, we just generally come here in winter or autumn and we never get bored because there are many attractions for the whole family, where you can quietly spend a few hours on creative fun and discovering interesting places.
The list below shows various attractions for children of all ages throughout the Tri-City, mainly in Gdynia and Gdansk. There is also one place definitely for older children, which we write about below.
The order of the places described is random, and in no way reflects how attractive the place is.
Emigration Museum – Gdynia
The Emigration Museum is our latest discovery, which totally absorbed us. And we write this from the perspective of both parents and children. While our children like museums, want everything to be read to them and shown to them, and are willing to go with an audio guide or tour guide, here they were completely unwilling to leave. We could see that spark in the eyes, the desire to travel with the Sikora family to America and the interest in what the next room we visited would bring.
The museum tells the story of various emigrations, but it is the voyage of Poles to the US that is devoted to the largest part of the exhibition and, in our opinion, is the most engaging (visitors can almost board the ship that sailed to New York, go through the inspection with them, and finally see how life was for Poles in different corners of the world at different times).
And while this museum is not primarily dedicated to children, the exhibitions are designed to interest younger visitors as well. Admittedly, there is a section on deportations to Siberia, the exhibition is darker here, but there are no inappropriate or drastic photos. In some places there are elements dedicated to children – puzzles, jigsaw puzzles that also educate in a very simple way, and there are even special child-friendly rules and regulations in the museum.
For children there is also a separate space outside the exhibitions – the Little Traveler's Room, where there are books, toys, where children with their parents can relax and play.
Prices:
Normal ticket – 15 PLN
Discounted ticket – 11 PLN
Family ticket (2 + max 4 children) – 40 PLN
Children under the age of 7 enter for free.
In addition, admission to the permanent exhibition is free on Wednesdays.
Address:
Emigration Museum in Gdynia
Poland 1
81-339 Gdynia
www: www.polska1.pl/
Hevelianum
Located in the Gradowa Mountain fort in Gdansk, the Hevelianum science center offers several thematic exhibitions aimed at audiences of all ages. They are located in different buildings and parts, and when passing between some you have to go outside, but still, in our opinion, the place will work well for inclement weather.
For the youngest visitors there are two sections Cosmic Adventure and Around the World. The first is a safe space where children are free to walk, experience, explore. Ostensibly for children aged 3-5, but even younger ones will find their way here. The Around the World section is larger, full of various interactive and educational stations, e.g. about animals, different corners of the earth, meteorological phenomena, etc.
Exhibitions for slightly older children are two more: the Puzzle and With Energy! – according to the website, are for youngsters and adults, but in our opinion even 6,7-year-olds will be interested in them (or at least in the exhibition about energy). The puzzle room is one room with various logical tasks and puzzles, and With Energy! is an interactive exhibition introducing the subject of various sources and forms of energy.
In addition, there are several exhibitions on the fort's grounds, introducing the history of the site and related to the military.
Prices:
Space Adventure:
Ticket for a child – 25 PLN

Ticket for a guardian – 5 PLN
Children under 2 years enter for free.
Package of 3 exhibitions: Around the World, With Energy!, Puzzle:
Normal ticket – 25 PLN

Discounted ticket – 20 PLN
Children under 2 years of age enter for free.
Location:
Hevelianum
Street. Gradowa 6
80-802 Gdansk
www: www.hevelianum.pl/
Experyment Science Center
Relating its theme to the Hevelianium, the Experyment Science Center is located in Gdynia and provides many stations and exhibits for fun and education in one large space.
Visitors can see how the human body is built, what processes take place in it and how much it can withstand. On the one hand, you can look into the "inside" of the human body, see how it functions, what is needed to maintain health, and on the other hand, it shows variously the limits and limitations for humans. Other sections introduce the element of water, and children can try to harness or use this element, and there are also quite a few exhibits related to physics and touching on the surrounding nature.
Prices:
Normal ticket – 25 PLN
Discounted ticket – 15 PLN
Children under 2 years of age enter for free.
Location:
Experyment Science Center
al. Victory 96/98
81-451 Gdynia
www: www.experyment.gdynia.pl/
European Solidarity Center and Fun Department
Although the European Solidarity Center may not seem like a good place for families with children at first glance, we would like to disenchant you a bit. The large, modern building has both a permanent exhibition on the history of Solidarity, a library, a media library, but there is also a specially designated play space for the youngest – the Fun Department. Here, only children under the age of 10 are allowed to enter (of course, they enter with a guardian, or you can leave your children in the care of staff members, provided you purchase a ticket to the permanent exhibition). In the Fun Department, everything revolves around the port and ships. Children will climb, slide, squeeze, try their hand at arcade and team games.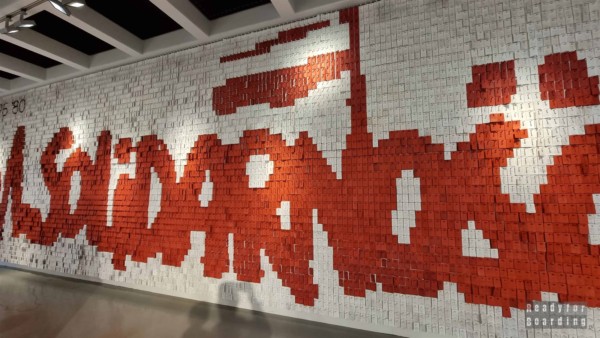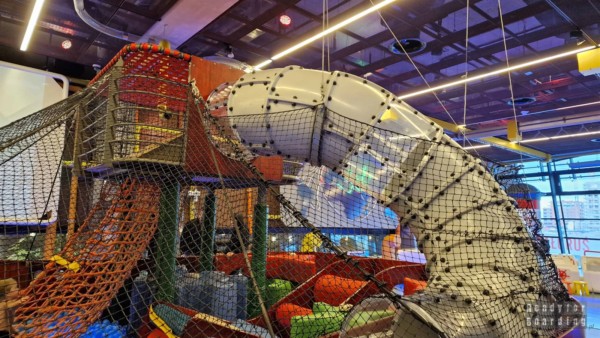 However, we also recommend that you consider entering the permanent exhibition with your children. For younger visitors, there is a special version of the audio guide that skips the more dramatic descriptions and tells the history of the site and Solidarity in simple terms. However, it is important that the child is able to focus and follow along with the audio guide, because only then will he or she get something out of the visit. According to us, the appropriate age for this exhibition is min. 7 years.
Prices:
Permanent exhibition:
Ticket for a child – 30 PLN
Ticket for a guardian – 25 PLN
Children under the age of 7 enter for free.
Fun Division:
Children under 2 years of age enter for free.
Location:
European Solidarity Center
pl. Solidarity 1
80-863 Gdansk
www: www.ecs.gda.pl/
National Maritime Museum in Gdansk
In Gdansk, there is a museum in the former granaries that will introduce the history of Gdansk and tell the long story of sea voyages.
Inside, we will see finds from the ocean floor, learn how the first settlements were built and how trade developed. Of course, most exhibitions are devoted to ships – there are models of ships, you can see how they are built (for example, a cross-section of a galleon), what a sailor's work looked like and what role they played during warfare. There is even a Maritime Gallery displaying maritime-related paintings.
It is more of a traditional museum with display cases, but there is room for a few interactive stations that will appeal to younger visitors.
An additional attraction can be boarding the ship "Soldek" moored right next to the museum (there is an additional fee).
Prices:
Normal ticket – 15 PLN
Discounted ticket – 10 PLN
Children under the age of 7 enter for free.
Location:
National Maritime Museum
Street. Olowianka 9-13
80-751 Gdansk
www: www.nmm.pl/spichlerze-na-olowiance/
Gdynia Aquarium
The Gdynia Aquarium is a fairly popular and well-known attraction. There are dozens of aquariums on 3 floors, as well as many exhibits and educational stations. On the one hand, children can see many marine animals, coral reef, and on the other, learn about the Baltic Sea.
The individual sections show the environment of the Amazon, the aforementioned coral reef, there is a section with amphibians and reptiles, and there is a section devoted to the Bay of Puck – so here you can come face to face with both species found in the coastal waters of the Baltic Sea and in the far reaches of the world. Particularly noteworthy is a large model depicting the topography of the Baltic Sea.
Recently, the place can be visited with a dedicated game for children – they have to find different animals and guess the passwords, which makes it an even more interesting adventure.
And it must be admitted that it is not a modern place, some of the halls could use a major overhaul, but the children will have a good time here and look at the aquariums like magic.
Prices (vary by season):
Normal ticket – 30-35 PLN
Discounted ticket – 22-25 PLN
Children under 4 years of age enter for free.
Location:
Gdynia Aquarium
al. John Paul II
81-345 Gdynia
www: www.akwarium.gdynia.pl
Other places for kids in the TriCity (Gdansk, Gdynia)
We decided to point out a few more interesting places to consider. Not all of them are suitable for young children (for example, because of the subject matter, but we leave to individual judgment).
With older children you can go to the World War II Museum. We were inside admittedly with a baby, but a toddler who slept most of it anyway, but with 4-6 year olds we would not go now. As soon as they grow up and start learning more about history we will definitely come back here with them. It is a modern museum, full of well-curated exhibitions that will tell you more than many lessons in school.
If you would like to show the city from above, you can hop on the Amber Sky – the Ferris wheel located in Gdansk allows you to look at the entire Old Town from a height.
Finally, there are two places we have not yet been to, but when planning an upcoming trip we will definitely enter at least one of them. First we will take a look at the Maritime Culture Center, where there is an interactive People-Ships-Ports room. Here children learn how a port functions, look at the work of sailors, learn about shipbuilding and much, much more.
Finally, a place that we tend not to visit during our travels, but it's worth having on the list just in case – we're talking about the giant Loopy's World Playroom, where a giant monkey grove, ball pool, slides, climbing wall, playgrounds, tunnels await children, and there's also an area for smaller children.
Summary: Attractions for children in Gdansk and Gdynia for inclement weather.
With the above suggestions, we wanted to show that it is worth traveling and discovering interesting places also in the off-season. Even if you don't manage to hit the weather, the indicated attractions will make you spend even a few days without getting bored and constantly wondering what to do today.
We definitely recommend the Tri-City in the off-season!