Lisbon can be explored quickly – take the famous streetcar 28, ride the entire route and you're done. This is how you will see the most important sights of Lisbon. You can go either way, and you can also go for a long walk :) You'll see a lot more, and at least you won't be squeezed and fighting for a place on the streetcar.
We in Lisbon alone spent two full days. Days filled to the brim, we would leave at 8am and return around 7-8pm, we didn't have the strength for more. Fact, we had to take breaks more often, sightseeing was slower, and the most searched for point on the map were toilets – such are the charms of traveling while pregnant:)
Lisbon – sightseeing day one
On our first day, we went to two of Lisbon's most important neighborhoods, Baixa and Alfama, and it is these that we will focus on in this post.
The road from our hotel to the center took us approx. 20 minutes. It was 20 minutes during which we got to know this worse side of Lisbon: shabby, dilapidated buildings, dirty sidewalks, dumped garbage in the middle…. Until we were afraid to go under the balconies, because we were just waiting for something to fly right away. Only the singing of the balcony canaries gave us encouragement and hope that things would get better soon.
And it was. As you enter the center, you enter a different Lisbon – a neater, cleaner, richer, tourist-oriented Lisbon.
The point on the map where we started was the square: Lg. Martim Moniz, from which it is already not far to two neighboring ones: Praca do Figueira and Praca Dom Pedro IV(Rossio). These squares are important if only for practical reasons – next to it is the Rossio Station, from which trains depart to Sintra, for example, and on the other hand, they are a good starting point for both exploring the Baixa or Alfama districts, as well as catching the No. 28 streetcar (starts from Martim Moniz).
At Dom Pedro IV Square is the Igreja de São Domingos, a church built in the 13th century that survived the largest earthquake to hit Portugal (1755r).
Near the entrance to the shrine is a Star of David-shaped monument commemorating the victims of the 1506 anti-Semitic massacre.
The Plaza Dom Pedro IV is a very large square, with a fountain and a statue with King Pedro IV. It is surrounded by numerous restaurants, hotels, attractions and is bustling 24/7. Also noteworthy is the theater located here: the Teatro da Dona Maria II and the aforementioned Rossio train station.
The Praca do Figueira square, on the other hand, pales in comparison to the aforementioned square in terms of size, but is sort of quieter, although it too is bustling, mainly due to rickshaws, cab drivers and streetcars.
Baixa
We then set off through the streets of Baixa, on the way passing a strange tower that turned out to be a lookout point(Elevador de Santa Justa). This strange creation blandly matching the buildings did not encourage us, and the long queue to enter left us in no doubt: we need to find a better vantage point (and we did!).
We didn't traverse the entire district up and down, but we had the opportunity to walk these larger and smaller streets (even several times, in search of shelter from the sun and something tasty to eat) and were sadly disappointed.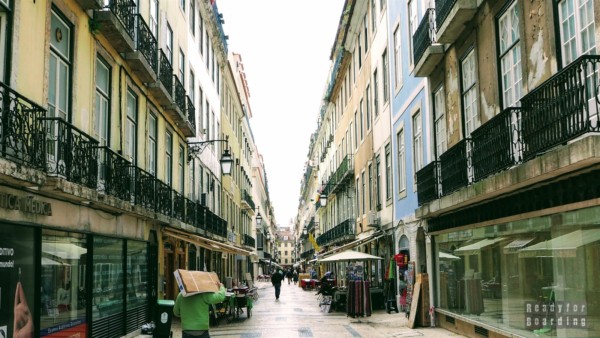 A typically commercial place, growing for tourists, restaurants one right next to the other that offer exactly the same dishes (even dozens of items!), and differ only in the colors of the menu cards. There are also plenty of stores, cafes and bakeries with sweets. On the advice of the guide, we even ventured away to streets where we would not normally go after dusk, and there everything was locked up. We ended up with delicious ice cream ;)
We then walked towards the Praca do Comercio, which is accessed through a huge triumphal arch(Arco da Rua Augusta), which definitely looks better from the side of the square. It consists of 6 huge columns and 9 statues (including the famous Portuguese explorer Vasco da Gama).

The Praca do Comercio is a huge plaza flanked on three sides by buildings with arcades, and is open on the shore side. In the center is a statue of José I. The buildings house important state institutions, but it will be important for travelers to know that this is where the tourist information center is located. Here you can get maps and leaflets of Lisbon and the surrounding area (including Sintra).
You can see the enormity of this square in the two panoramas below :)
Please define valid width and height attributes for remote images. This will also optimize the loading time of the remote panorama.
And here a bit of a different perspective.
Please define valid width and height attributes for remote images. This will also optimize the loading time of the remote panorama.
Here the vendors of dark glasses and sephi-sticks drove us crazy and were able to spoil not only our moods but also the shots, brazenly entering almost every frame ;)
Be careful – or safety in Lisbon
In this location (Baixa, but also all of Lisbon) you have to be especially careful. Honestly, in no place, but no place, have we encountered that within 15 minutes, we were tried to push the goods as many as 4 times! Maybe it's the pregnancy belly that works so well that from a distance you can see that this guy with a pregnant woman definitely needs it ;) But that's still a pique. We got used to people titled "itinerant trade of selfie sticks and sunglasses" (although in Lisbon they were particularly persistent), we were really afraid of theft.
Already before arriving, we had heard and read that one should be especially careful of pickpockets, mainly in streetcars. Especially the tourist ones.
When we were waiting for a streetcar at the stop one day, a civilian police car pulled up and shouted to us that we should be careful because the woman who was standing next to us was a thief. That's it in a nutshell, because we don't speak Portuguese, but passersby were helpful and explained to us what it was all about.
From now on, we paid even more special attention to documents, money and equipment, especially on public transportation, which can be really crowded.
Alfama
We then walked towards Alfama. Of course, we went zigzagging to see as much as possible. Right next to the Praca do Comercio is the Igreja de Nossa Senhora da Conceição Velha, with its beautifully decorated entrance – we pay attention to this church, because as you meander through the streets towards the Cathedral or the Castle, you can easily miss it.
If churches don't interest you, a piece further east you can see Casa dos Bicos(House of Spikes), which catches the eye with its distinctive pointed spikes on the building's facade.
Further on, we face a bit of uphill climbing and suddenly we are at the gates of Sé Cat hedral (full name: Cathedral of the Blessed Virgin Mary in Lisbon). This oldest church in Lisbon dates back to the 12th century, while it should be mentioned that it suffered significantly during the aforementioned earthquake, and its current appearance is the result of 20th century work. Admission to the cathedral is free, only there is an additional fee to enter one section and the vault.
Outside, there is bustle and noise. Crowds of tourists, noisy, people-filled streetcars, cars speeding right by the cathedral – yes, we're at one of the most popular tourist spots in Lisbon, so it's no surprise.
Fortunately, there are benches and a cafe outside where you can look at all the hustle and bustle from the side. Also, going inside is a good idea, because contrary to what's outside, when you cross the threshold of the temple you find yourself in a peaceful, quiet place.
Alfama, Lisbon's oldest district, is located on a hill, so every now and then we went uphill, which in a two-pack can be a bit cumbersome. Fortunately, the sun didn't bother us so much, but we still had to take breaks more often than before. The occasion for such a break was the Santa Luzia observation deck. And even if there was the most beautiful view in Lisbon (but there isn't ;-)) we wouldn't recommend this place in good conscience. Once again, our mood is spoiled by traders, so we quickly move on.
Finally, we arrive at the castle that reigns over Lisbon – Castelo de Sao Jorge (St. Peter's Castle. George). These are essentially the remains of the castle that suffered the most after the tragic earthquake in the 18th century. The entrance ticket costs 8.5 eur and allows us to enter the castle grounds, quite an attraction are also the local peacocks. However, there is another, in our opinion better reason to enter – the view! Just look at the beautiful skyline of Lisbon:
Please define valid width and height attributes for remote images. This will also optimize the loading time of the remote panorama.
Of course, you should also walk around the castle itself, which is also an interesting place to visit.

It was getting late, and we'd only had ice cream all day, so we decided to go down to a pub recommended by the Lonely Planet guidebook – Marcelino Pao e Vinho. Maybe the choice of dishes does not knock you out, but at least in peace and quiet, away from the crowds and hustle and bustle you can eat something. They serve mostly sandwiches and quiche here, but the portions are quite large and tasty.
With a renewed supply of strength and energy, we decided to go to the Igreja de Sao Vicente de Fora yet – the monastery has its origins in the 12th century, but like other buildings in Lisbon, it was destroyed in the 1755 earthquake, during which the dome collapsed on the worshippers inside.
A piece further on is the Panteão Nacional, a massive white Baroque building that originally served as a church and is now the resting place of the great and famous Portuguese. Entrance to the Pantheon is chargeable – 4 eur.
Everyone recommends'Get lost in Alfama' – we didn't get lost, we always knew exactly where we were ;) This does not mean that we did not deviate from the designated route. On the contrary, we were eager to get into the small, narrow streets, e.g. in search of a cool place to eat or local stores, but somehow we didn't manage to lose ourselves in Alfama, although of course it is a beautiful place ;)
What's next?
This was the last point on our map that day. It was a very intense day, but we had the opportunity to really see and experience a lot.
The tour of Lisbon will continue here:)
We also recommend our entry: Lisbon – 3 places you must see!
Below is a gallery of our photos from the locations described above: