Are you looking for a quiet place for winter madness? Instead of popular resorts, do you prefer places on the sidelines, less besieged? Or are you looking for a resort that offers activities for people who don't necessarily want to ski? Check out our suggestion today!
Bachledova Dolina… sound familiar? You may have already read about this place with us. We visited the Bachledka Ski & Sun resort at the beginning of the vacations last year, which we wrote about in this post: Bachledka Ski & Sun – not only for winter madness. This time we got an invitation to come in winter to take advantage of both the local slopes and the attractions prepared for people who don't necessarily want to schuss on the slopes. We've had skis on our feet only a few times, so since the opportunity arose to get some training, we were eager to take it, and in the process we also tested other attractions.
The Bachledka Ski & Sun resort is located in Slovakia, just 15 kilometers from the Polish border. It is a place where you can both ski on several ski slopes of varying difficulty, take a leisurely walk on footbridges among the treetops, or just go sledding. We were here for four days and enjoyed the on-site attractions to such an extent every day that we had no need to go somewhere further away. In the following post we will show you what you can do at Bachledka Ski & Sun, how much what costs, and what you need to know before you arrive.
Ski slopes in Bachledka
First, the most obvious part, because let's not kid ourselves: that's why most people go to the mountains in winter, to ski or snowboard.
As we mentioned at the beginning, we have skied a few times on our feet, so we may not be very objective in our assessment of the prepared infrastructure, but during our stay we asked a lot of people, especially Poles, why they came exactly to Bachledka and how they evaluate the local slopes in relation to those on the Polish side.
The answer that came up most often was: no crowds! When in nearby Bialka Tatrzanska one has to wait even tens of minutes in line for the ski lift, here one enters almost from the boot. And in fact, we went up the mountain by gondola and cable car a total of more than twenty times, and there was never a time when we had to wait more than five minutes. The only exception was on Monday, when we hit a group learning to ride and they were just entering the gondola lift in front of us, but we still did not wait more than 10 minutes. The ascents were smooth and seamless.
From the hotel's windows, we watched the machines that prepare the slope for skiers go out every day from 7 am. Again, our assessment of the slope's preparation may not be objective, but we skied ok, and the complaints we heard were mainly about the weather conditions, which gave skiers a hard time for one day.
In Bachledka, 8.5 kilometers of ski trails of various levels of difficulty await fans of winter madness. There are easier and more difficult trails, there's a donkey lane with a learning chairlift, and there are a total of 8 different trails, 6 of which are snowmaking, and 8 lifts (including a gondola lift that is open year-round).
There are also sports equipment rentals and service on site.
Learning to ski
Of course, Bachledka could not miss a ski school. On-site lessons can be purchased at the Gorgy School, where children as young as 3 can take their first steps on skis. The school is located on the Hrebeň slope, close to the upper station of the gondola lift.
Whether someone is just starting out or wants to improve their riding technique, instructors will help, teach and make time on the slopes fun. There is also no problem with the language barrier ;) Polish and Slovak languages are very similar, so even children will be able to communicate with the instructor without a problem (we rode with a total of three instructors and the children had no problem understanding and talking to the instructors).
In addition, there is a separate play and learning area specifically for children to ride and play under the watchful eye of an instructor.
Sledding in the Tatra Mountains
If not skiing then maybe sledding? This is the part that Philip liked the most and we had a great time sliding too! Because is there anything cooler than being able to sled down a mountain, along a route that is as long as 2.5 km!
Well, in Bachledka there is just such a designated route for sledding! You can ski down on your own equipment, or you can rent it on site (the rental shop is in the same building as the ski school). The route begins at the upper station of the gondola lift and ends at the parking lot at the lower station.
The route is 2.5 kilometers long and descends more than 250 meters! At times you can get really worked up, so smaller children are better taken on your lap ;)
You can see the path ride on our instagram:
View this post on Instagram
A path in the treetops and an observation tower in Bachledka
For those, however, who prefer a leisurely stroll and carefree enjoyment of the views, there will also be something on site. The treetop path along with the 32-meter tall observation tower are accessible all year round, and there are far fewer visitors here in winter than in summer!
Walking along the path allows you to look down on the snow-bending branches, you can observe wildlife tracks below, and along the way you will meet many educational boards. Maybe you will be lucky and manage to track some animals from high up?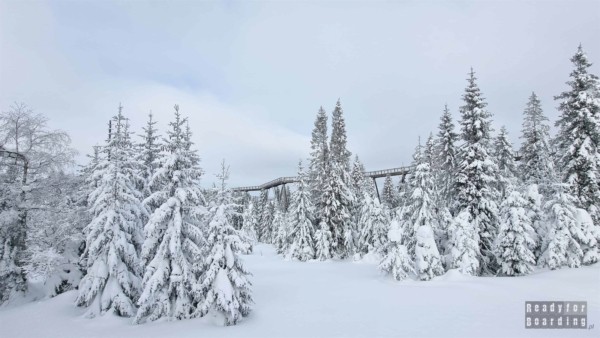 The path is fully adapted for wheelchair users, so there will be no problem with a baby carriage either. In winter it is cleared of snow, at times only it can be a little slippery. You can also rent a stroller for the smallest children at the entrance (a deposit will be required).
An additional attraction will be an evening tour of the path! On two days a week (Tuesdays and Saturdays), both the path and the gondola lift operate until 8 pm (normally they are open until 4 pm), giving you the opportunity to observe the starry sky from a height of approx. 1170 meters!
Practical information
Restaurant at Bachledka Ski & Sun
If you get hungry, we recommend checking out the Panorama Restaurant, which is located at the upper station of the gondola lift. Here you can order food both local and well-known and well-loved pasta, soups, meat and vegetarian dishes. The food is tasty, mostly made to order, and what is ready is fresh and warm.
In a separate bar you can order something warming with or without percentages.
If you come here with children be sure to sit at the children's corner – there is a great, simple space for children with a maze, hammock, soft cushions and toys. The kids won't want to leave :)
Bachledka Ski & Sun resort opening hours
Unlike the slopes on the Polish side, the one in Bachledka is not open late in the evening, nor is it illuminated (only a small section near the gondola lift is lit). The last train ride is at 3:45 pm. Two days a week (Saturdays and Tuesdays) there are night ascents (from 5:00 to 8:00 pm), but skiing is not possible then (a treetop path and toboggan run are available).
On the one hand, we regret that it is open for such a short time, but on the other hand, thanks to this we simply had time to relax at 4 pm.
Prices – how much do ski passes cost?
Below are prices for ski passes and on-site services.
Tatra Super Ski Passes
To start with an important point: Bachledka uses Tatra Super Ski, a pass that is acceptable at 18 different resorts in Poland and Slovakia.
The price for a 4-hour pass, depending on the season:
normal: 26 – 35 EUR
reduced: 23 – 33 EUR
The price for an all-day pass, depending on the season:
normal: 30 – 39 EUR
reduced: 27 – 37 EUR
Price for a 3-day pass, depending on the season:
normal: 78 – 108 EUR
reduced: 71 – 100 EUR
The price for a 7-day pass, depending on the season:
normal: 161 – 222 EUR
reduced: 144 – 206 EUR
Ski school at Bachledka Ski & Sun
In the ski school you can buy individual or group lessons (from 3 to 5 people).
Individual rides:
1 lesson – 36 EUR
2 lessons – 62 EUR
Group activities:
2 lessons per day – 32 EUR
4 lessons per day – 56 EUR
Equipment rental and service
Rental of a set (skis, boots, helmet, poles) for one day:
for an adult – 18 EUR
for a child – 15 EUR
Renting a set for three days:
for an adult – 50 EUR
for a child – 43 EUR
Sled hire
Sleds can be rented for one run or for hours:
1 slide – 8 EUR
2 hours – 10 EUR
Path in the treetops
Normal ticket – 12 EUR
Discounted ticket – 10 EUR
Children under the age of 3 enter for free.
Getting to Bachledova Dolina
Bachledova Dolina is located 25 km from Bialka Tatrzanska, 40 km from Zakopane and only 15 km from the Polish-Slovakian border. Immediately after crossing the border, we leave the light-filled cities behind and enter roads leading among trees and high snowdrifts (rest assured, the roads are fully passable!).
To get here, head for the village of Zdziar on road No. 66, and then turn left after leaving the town (at the intersection there are signs for Bachledka Ski&Sun). About 20 minutes after crossing the border, we arrive at Bachledka Ski & Sun, where many attractions await.
And no, there is no need for your car to be 4-wheel drive :)
There are parking lots on site, payable at 3 euros per day (they are free for hotel guests).
The exact address:
Bachledova dolina 702
059 55 Ždiar
Slovenská republika
https://bachledka.sk/pl
Accommodation – where to stay in the Bachledka Ski & Sun area?
As last time, we simply stayed overnight at the ski resort, in a building right at the bottom station of the gondola lift. From the apartment's windows, we were able to watch in real time how the cable car was operating, how many skiers were on the slope and how the slope was being prepared. Noises did not reach the room, and in the evenings when the facility closes it was extremely quiet and peaceful.
We spent the night in a family suite with a bedroom with a double bed, a sofa bed and an extra baby bed. We had two bathrooms and a kitchenette in the room. The apartment was very clean and well equipped.
In the morning, we had buffet breakfasts in the same building, on the first floor.
We had two lockers assigned to our room in the equipment storage room – we could leave our skis and boots here overnight, and thanks to the drying function, in the morning we had everything dry and ready to ride.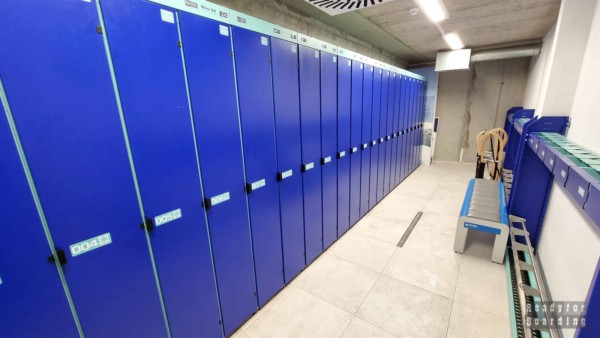 Our opinion about Bachledka Ski & Sun in winter
We've been to Bachledka in both summer and winter and we ourselves don't know when it's better to come here! In winter we were enchanted by this place: snowy mountain slopes, trees covered with a layer of powder, well-prepared infrastructure and attractions for people who do not ski or snowboard – all this made the stay very successful!
We would be happy to return here both in summer and winter.
We visited the place at the invitation of Bachledka Ski & Sun, we highly recommend it to you too!