Description
Our Travel Planner will help you plan your trips better! If you want to have everything under control, preferably saved and kept in one place, then we are confident that our product will help you.
What will you find inside?
Below you will find a description of the various sites that are part of our Travel Planner:
Important travel information – airplane
Important travel information
Accommodation
Transport
Flights
Places to visit
Daily schedule
Weekend plan
Multi-day plan
Weekly plan – hours
Weekly plan
Monthly plan
Packing list
Luggage
Planned budget
Planned budget – categories
Pre-departure tasks – one month
Pre-trip tasks
Note for absence – categories
Note for absence
Notes
The cover is not included :)
How to print the Travel Planner?
These are print-ready documents – they can be printed in A4 or A5 format (two sheets per page).
The planner will look best if you print it without margins (if your printer does not have this option it will still look good).
We've left a white margin on the left side giving you plenty of options for folding all the pages – you can use a hole punch and keep everything in a binder or folder, you can bind or simply clip with a stapler or paperclip.
Do it the way that is best and most comfortable for you.
The planner was created so that everyone can get something out of it for themselves! You can use only a few, selected sites, and you can use all of them. Some pages are designed to print several times depending on the length of the trip and individual needs.
For example, you can print the Plan of the Day in 3 copies if you are going on a 3-day trip and want a specific plan for each of those days. You can even print it in 14 or 21 copies if you go for 2 or 3 weeks – the sky is the limit (or rather the ink in the printer ;) ).
NOTE! To open the file on a computer or smartphone, you need an app to read the file in pdf format and to handle zip archives (virtually every device these days has such built-in options).
We also recommend our post:
How to plan a trip? "

Then what? Are we planning? :)
"Family Travel" series.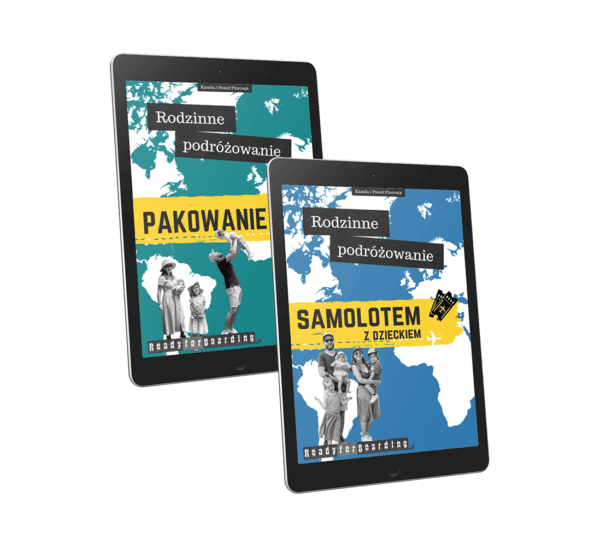 We also recommend to you our "Family Travel" series of guide eBooks. You can purchase all current parts
in the promotional set "
at a lower price!
If you want to receive a discount on the purchase of further parts in the future, be sure to agree to sign up for the newsletter when purchasing this part. Then we can send you a discount code to your email address. If you forget about it during your purchase, you can also simply sign up for the
to the newsletter here "
:)
Additional information:
Authors:
Kamila Florczak
Paweł Florczak
Publisher:
ReadyForBoarding.pl
Number of pages: 22
Format: PDF (zipped in ZIP)
Language version: Polish
Łódź 2023