Orlando is a city of amusement parks! A city where children's dreams come true, adults can go wild on rollercoasters, and it only takes an hour's drive to see a space rocket launch! Yes, staying in Orlando can be an unearthly experience. See why :)
You could spend 2 weeks here and visit the amusement parks alone and you wouldn't have enough. We in Orlando alone were a week, visiting new places every day, and still had to give up many places. We gave up for lack of time, we gave up because not all the facilities were suitable for young children, we gave up because we disagreed with the policy of training and using animals, and yet we still had plenty to choose from and filled every day on site to the brim.
It was an intense week, full of excitement. Maybe even too intense ;) Even though we tried to plan our days in such a way as to intersperse larger attractions with smaller ones, we still often found that the seemingly smaller ones were able to absorb us for longer.
There is really a lot going on in Orlando. We would even be tempted to say that there is something for everyone, even if one is not a fan of amusement parks. Fact, they dominate the local lists of attractions, but for us Orlando was also an opportunity to see and feel American life.
Attractions in and around Orlando
Below you will find a list of the places we visited with a brief commentary (there will be time for a longer argument) and an opinion, as there were not always raptures alone. We visited some of them just for the sake of the children, and others for the sake of the adults.
Some are in Orlando itself and some are further away, but for us the primary means of transportation was the car and we can't imagine traveling around Florida without a rental car.
Distances may seem long, but the well-developed highway networks make it easy to get around locally. Unfortunately, in many places you have to deal with paid parking lots, and their cost is as much as $20-30 (one time). It is worth taking these additional costs into account when planning your trip (fortunately, gasoline is cheap).
1. Kennedy Space Center
A bit of a twist, but we'll start with a place away from Orlando itself. Kennedy Space Center is located at Cape Canaveral on Florida's east coast. It takes less than an hour to get there by car from Orlando.
Why do we start with KSC? Because this is the place that impressed us the most! And even if rockets and space are not something that turns you on, it's still worth coming here.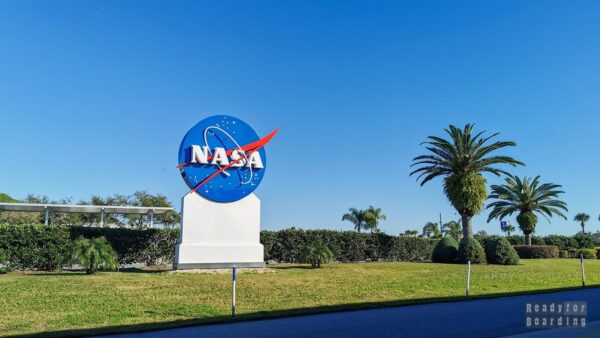 Here you will learn about the history of space flight, see rockets and spacecraft, take part in simulations and experience the real thrill of both flight control and astronauts during rocket launches. And to top it all off, you can touch a real moon rock here! This is a huge dose of knowledge and an interesting experience, and a person leaving this place understands how big an undertaking each, single shuttle or rocket launch is.
>> We recommend you our entire separate post about Cape Canaveral – Kennedy Space Center, or NASA's space adventure in Florida.
From practical information: once you are there and cross the gates, we recommend you immediately move towards the coaches that transport visitors around the entire facility – you will be able to see up close the huge VAB building, where rockets are assembled (not only one of the largest buildings in the world, but with the largest doors!), launch platforms and a center dedicated to missions Apollo/Saturn V, i.e., missions to the moon (set aside plenty of time for that!).
When you return from the bus tour, you will be able to quietly watch the rockets and capsules prepared here, as well as take a look at the other buildings. We ran out of time for some, but be sure to take a look at Space Shuttle Atlantis.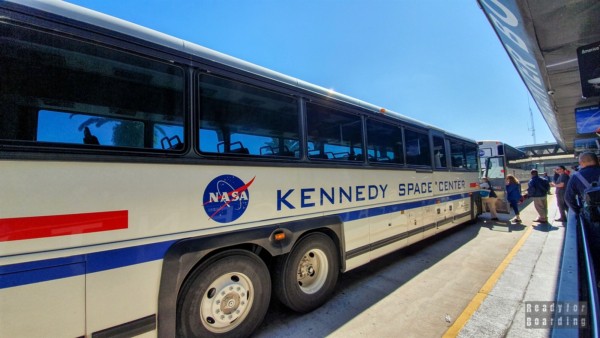 Inside the complex there are quite a few attractions even for small children – there is a space playground, slides, you can take a look at the space station, etc. Even 2 and 3 year olds will have a lot of fun here, and you won't be able to drag them away from some of the attractions!
We highly recommend it! The place is worth the trip from Orlando.
An admission ticket costs $57 for an adult and $47 for a child from 3 to 11 years old.
What about watching a rocket launch? We managed to see the rocket launch, but not from the Kennedy Space Center, but from Cocoa Beach in the distance. It is reportedly the best vantage point for launches from Cape Canaveral. Initially, the rocket launch was planned before our arrival, but thanks to the fact that it was postponed several times we managed to catch it. For launches, you can buy a ticket to the grandstands (topping up the regular ticket) to have a good vantage point, but this is not always possible. To be honest, it is currently not possible for any of the scheduled launches, and even for the one we watched it was canceled, and people who had tickets purchased were refunded. So it was left for everyone to watch the launch from nearby points.
If you have the opportunity, it is worth participating in this very cosmic experience! Because, after all, it's not every day you can watch a rocket launch :) We will still write about both the launch itself and the tour of the Kennedy Space Center. Stay tuned.
2. Disneyland in Florida
If Orlando is Disneyland! The word Disneyland is not officially the name of this facility, but since Walt Disney World Resort is a less popular and catchy term, we will continue to use the name Disneyland. At the outset, it's also necessary to distinguish between the different facilities, because Disney parks here are several!!! So we have Animal Kingdom, Hollywood Studios, Magic Kingdom and Epcot, and in this post we will write you a few words about the last two.
There are four parks, and tickets are purchased for at least two days (online, as you can only buy one on site), and you can enter any two parks or the same one twice (there are also packages for more days). So it's worth planning well for a visit to Disney theme parks.
It is now the prices, attention keep up! (aaaaaa!) The ticket for an adult costs 250 euros, and for a child 240 euros (from 3 to 9 years old)! This is the cheapest ticket, allowing you to enter two different facilities (any 2 days within 4 days)…. We will not convert to zlotys ;) So a trip to Disneyland is quite an expense, especially for a family…. Is it worth it?
3. Magic Kingdom
It is a famous amusement park with a Disney castle. The counterpart to Disneyland you may know from Paris, or from our coverage of Shanghai Disneyland Park. Here there are fairy tale lands, rollercoasters, encounters with famous characters, parades and a fireworks show. Here you will find a very large cross-section of attractions for both young and old. With a less than a year old we could already use some of the rides, and a 3.5 year old could go crazy on many of them.
We came here specifically during the week rather than on the weekend, hoping that there would be fewer people, but it was still very crowded. Fortunately, there is a way to at least reduce the waiting time in the queues :) Buying a ticket, we can book ourselves rides for specific hour windows which was a super solution. This avoids long queues and limits the wait to about 15 minutes. This option is available to anyone through the website or app.
There can be no comparison to Disneyland Shanghai. While the parades were definitely better in Shanghai, everything else in Orlando ;) A lot is certainly done by the people – here visitors are more laid back, they come to spend time with their families, not to upload photos on Instagram ;) No one is surprised by people in plain t-shirts and sweatpants, people who don't document everything with smartphones…. it was a very nice change for us. One is here for the children, with the children, and it is to them that time is devoted (in Shanghai there were far fewer families with smaller children).
Most impressive, however, was the fireworks display in the evening. Brilliantly refined in every way!
4. epcot
We decided on Epcot mainly because of the attractions related to "Iceberg Land" ;) Epcot is a large area around the lake in which different lands are visited. The different parts are styled in different corners of the world, with themed architecture, elaborate details, restaurants with local food, stores and also rides or performances. A fireworks show is also held here in the evening.
The most important part for us (or more precisely for Olive) was Norway, where you can meet Elsa and Anna and take a boat ride through the land of Arendelle. You have to stick out your time to meet the characters, but you can book a specific time for the boat ride. For fans of Iceberg Land great fun :)
We would describe Epcot itself as one big entertainment center. We got the impression that people come here to sit in an exotic restaurant, walk around, listen to live music…. They are less focused on the rides and more on having a quiet time.
And you have to admit that the lands are super prepared. They do a great job of capturing the vibe of each place, especially since we've already seen many of them live, in their place ;)
Nevertheless, we believe that the price is exaggerated for entering the facility, where we continue to spend more and more money in food and service outlets, because that is what is at stake here.
We will also write separate posts about Disneyland itself for sure :)
5. Disney Springs
In our view, somewhat similar to Epcot – Disney Springs is a free, large shopping and entertainment center with Disney touches. We were here in the evening and perhaps it was the time that took away all the magic. It was too crowded, too dark, too noisy…. While in Epcot there are various rides, themed lands, here it is more of a boulevard with stores and restaurants.
However, if you are looking for an entertaining place with an accumulation of various restaurants and stores, then perhaps Disney Springs is just right for you. Here, people sit in restaurants and pubs, listen to live music, stroll by the lake – it's a place where they come after a long day to eat, relax and unwind.
Entrance to Disney Springs is free (parking also, which is rare ;-)).
6. icon Park in Orlando
The place where Orlando residents spend their free time is also Icon Park. We were here during the day, so we can't compare one to one with Disney Springs, but Icon Park made a much better impression on us.
Calm, quiet, idyllic. Here there is a giant Ferris wheel, from which you can admire a completely flat Florida :) It's actually an accumulation of local attractions, because entering one building you can look at Madame Tussauds Wax Figure Museum, Sea Life or finally go to the Ferris wheel. We took all three options.
The Icon Wheel or the 122-meter-high Ferris wheel towering over Orlando will allow you to reach hen far with your eyes…. Because Florida is incredibly flat terrain. The trip in one of the 30 capsules takes more than 20 minutes and allows for a peaceful view of the city from above. The capsules are very spacious and can accommodate up to 15 people. Fortunately, the ride is organized so that everyone is comfortable and in most capsules there are 1 or 2 people.
In the same building as the entrance to the Icon Wheel are also the entrances to Sea Life and the Madame Tussauds Wax Figure Museum.
We have been to the Wax Figure Museum once, a few years ago in London. The museum in Orlando is organized a little differently, there are other characters. We were surprised that unlike the London museum, here it was almost empty…. We were able to circulate among the figures and take pictures without hurrying. And who will we meet here? Let's start with the current/former U.S. president, to Walt Disney, Abraham Lincoln, Michael Jackson, Steven Spielberg, and a whole street of super heroes! We definitely spent more time here than we planned!
Located on the other side of Sea Life is also a facility we know from England. This is a place where we can peep at sea creatures in large aquariums. We especially liked the opportunities for children: many of the aquariums are made low so that the smallest children can also learn about fish and corals, plus there are many spheres through which children can lean their heads between the fish. On the plus side, there is also definitely a large playground inside.
How are these attractions priced? A ride on the wheel costs $28 per adult, and entry to the Wax Figure Museum or Sea Life costs $25.
There are also combination tickets for the above attractions – prices for entry to all three start at $50 per person.
7. Legoland in Florida
If you'd like a break from Orlando's top attractions, a good springboard would be… Legoland in Florida ;-) We were surprised that the theme park can be quieter, more relaxed and without crowds. So if you're looking for a place where you won't have to wait an hour in line, look into Legoland.
As a rule, Legoland is not the first choice when it comes to amusement parks in Florida. Most people choose the more popular Universal Studio or Disneyland. So why did we decide to go to Legoland? After visiting Legoland in Billund, we knew this place would appeal to kids and we weren't washed!
There are definitely more attractions for toddlers at Legoland. There are several themed zones, including Duplo for the youngest, among others. There is also a special covered playground for children with great feeding facilities, changing tables and highchairs. So if, like us, you're traveling with smaller children who don't catch the growth at most Universal Studio attractions, Legoland is worth considering.
We were surprised that we were able to enter the attractions and rides almost from our shoes, and the queues were for a maximum wait of several minutes. However, if you were to hit the longer queues, there are special areas with blocks for toddlers to play – parents wait politely while the kids play :)
8. crayola Orlando
Probably not many people have heard of this place! Especially if you only stop by Orlando for 2-3 days. However, if you plan to stay like us a while longer, it's worth including crayon madness in your plans – we recommend especially for bad weather!
We to Crayola went between amusement parks to relax a bit, to cool off. By design, we thought we would spend an hour here, two max, and leave, and we were here for almost half a day!
The place is a fantastic, creative place for children to get artistic. Beginning with coloring, you'll end up backing 3D pens, melting crayons, digital painting, coloring toys and furniture, and creating coloring books with your own photo. And that's just part of the attraction! Take our word for it, you'll have a hard time getting your kids to leave here.
On top of that, there are playgrounds, including one for the smallest children and another quite high monkey grove.
Buying a ticket, each person gets special tokens that can be exchanged in the hall either for crayons or markers, or…. can create their own crayons!
9th Old Town, Kissimmee
Now a place more for adults, something we are sooner familiar with from American movies and TV series – a typical funfair with buildings styled in the 1980s.
The place we are writing about is Old Town near Orlando, in Kissimmee. Entrance to Old Town is free, but of course you have to pay for individual attractions. We were here in the evening, after 7 p.m., and were surprised at how few people made it here. Probably most were at Disney Springs ;)
On the one hand, it is a street full of stores, bars, services – unique, original, thematic…. here until you wanted to look in simply to look at the arrangements and assortment.
On the other hand, it is a classic funfair, where you can go wild on rollercoasters, go-karts and other attractions. And we have to admit that this is a facility that is already years old and does not have the latest rollercoasters, and looking at it, we were more afraid of the construction itself than the ride experience.
We came more for the atmosphere, for the facilities full of lights and music, for the American youth (which were not there!), for the comparison with Disney Springs. And how? There is nothing to compare. They are completely different facilities, different level, different attractions, different visitors…. Everything else. In our opinion, however, it is definitely worth a look here to feel the atmosphere and ride go-karts :)
10. outlets in Florida
Ha, if none of the above interested you, how about shopping and bargain hunting?
We definitely do not know how to hunt for bargains ;) Anyway, our trips are not shopping expeditions.,. but several people recommended us to go to at least one of the outlet stores once we are in Florida. We have had a very bad experience from Poland, poor merchandise, old, lack of sizes, so we were not initially convinced to go to an outlet in the US either, but fortunately we went to find out.
We were at the Orlando International Premium Outlets. It is an open, uncovered shopping center with many brands, including premium brands.
In almost every store, in every window, posters about discounts, promotions, add-ons and whatever else the manufacturers come up with are tempting…. however, when we started looking at them, these discounts were not at all fantastic. It was, for example, 20% on everything, or discounts on more items. Primary prices? Comparable.
However, the fun begins when you start using coupons and additional discounts you can get through the app! Well, it turns out that the discounts in most stores combine and then you can actually hunt great clothes at good prices.
We don't want to urge you to splurge on everything, because it's not worth buying in every store either, but if you want to buy good quality things that cost a crore in Poland, then a visit to such an outlet is a good idea for you. For example? Tommy Hilfiger women's jeans, cost about 150 zl, for 2 pairs of Converse sneakers we paid 120 zl ;)
What else?
Yes, that's not all ;) We were a week and visited each of the above places…. As you can see, it was intense and it was very entertaining. However, there are a multitude of other attractions and theme parks in and around Orlando. There wasn't enough time for everything, however, if we were to return here (which we probably will one day ;) ) we would definitely direct our first steps to…
Universal Studio in Orlando
A real treat for fans of adrenaline and… Harry Potter! We definitely fall into the first and second groups, so why didn't we go to Universal Studio?
Because it would be an attraction for adults only ;) We prefer to come back here when the children grow up, when we instill in them the magical element of Hogwarts, when they grow up enough to ride the rollercoasters.
Universal Studio includes two theme parks, Universal Studios Florida and Islands of Adventure. And here we praise the designers, because they were separated in such a way that Harry Potter fans had to enter both…. What's more, a special Hogwarts Express runs between them, and to ride it you also need to have a special package purchased. Prices are rising, so I guess you already understand why we gave up this time? However, we opted for Disney World.
Nevertheless, it still remains on our dream list to visit this place someday. There will be something to come back to Florida and Orlando for :)
Is it worth visiting Orlando? Our opinion
I guess we don't have to write that if you fly to Florida you absolutely must stop in Orlando? Even if you're not a super fan of amusement parks and rollecoasters (and we definitely are!) it's worth a look here, because as we mentioned at the very beginning Orlando offers so many attractions that there's something for everyone.
For us it was also a great place, because thanks to our stay in Orlando we lived in a typical American house and could get more of a feel for what it would be like if we lived here every day…. but that's a topic for another post :)
We also recommend you our post Florida FAQs – Frequently Asked Questions from Travel to the USA and What's worth seeing in Miami? The most Hispanic city in the US.