Upper Lusatia could be said to be so close and yet so far away. Despite its proximity, few people from Poland choose to spend their vacation in Saxony. Today we are going to strongly motivate you to include this region in your upcoming vacation plans.
We spent more than a week in Saxony, and we must emphasize right at the outset that it was a very intense week. The number of places we had in our ambitious plans filled each day to the brim, and yet we were left with a rather large dissatisfaction. We were unsatisfied and delighted, because we did not expect that this land has so much to offer to those thirsty for sightseeing, active recreation or even (or even especially) families with children!
This was not our first trip to Saxony. This was our third visit to the region during the past 12 months, and we keep saying we haven't seen everything. The first time we were in Saxon Switzerland, on a day trip from the Czech Republic. Just two months later we returned, this time focusing on Dresden and its surrounding corners. Now, on the third time, we have reached Upper Lusatia and Leipzig, and in this post we will focus on the former.
See what fantastic places are lurking just across the Polish-German border!
Muskauer Park and Muskauer Park
Bad Muskau, or Mużakow in Polish, is a small German town located just across the Polish border on the Lusatian Neisse River. It is a spa town famous for its beautiful Prince Pückler Park, which is 2/3 on German territory and 1/3 on Polish territory, and it is on the German side that the most important facilities in the park are located. It should also be noted that Muskauer Park is a UNESCO World Heritage Site.
You can come to the park to take a break from the hustle, bustle and noise. Century-old trees, bushes full of flowers, beautifully arranged gardens, wide paths, benches, peace and quiet – these are ideal conditions to spend time among the greenery. Some people choose to come here by bicycle, but this does not prevent walkers. Admission to the park is free of charge, there is a parking lot, for which you already have to pay.
What interesting objects are located in the park? If we're coming in here from Poland, you'll definitely pay attention to the so-called "Polish". A double bridge over the Lusatian Neisse River that once served as a border crossing. Now, of course, at will, you can walk across it and cross the border at the same time.
The most interesting and impressive building is the New Castle. It was completely destroyed during the war effort, but thanks to the work it has been fully rebuilt and opened to the public. What can we see inside?
First of all, the exhibition "Pückler! Pückler? There are simply no words!" where we had the opportunity to learn about the history of the castle, interesting facts about the prince and see his room, among other things. Interestingly, inside the castle, we can ride in small carriages, similar to horse-drawn carriages, and take a tour of Muskauer Park. The ride is quite slow, but the built-in speakers in the seat play the history of the park, interesting facts about it and described buildings, all available in Polish as well.
It's also worth climbing the 35-meter high tower for views of the surrounding park (only stairs lead to the top).
As part of our ticket to the tower, we also had the opportunity to see an exhibition by Polish artist Aleksandra Manczak, located here.
There is also a wedding hall in the castle, and we were lucky because we just happened to be at a wedding, so we were able to peep at the bride and groom from the castle's windows in this very romantic setting.
There are other buildings in the park, such as the Castle Farm, the Cavalier House and the Orangery. We recommend stopping for a while at the cafe and relaxing outdoors in the shade of a tree.
P.s. While visiting, look around for the historic oak trees – they are incredibly impressive!
Muskauer surroundings
Narrow-gauge railroad
It is possible to go to Bad Muskau from Poland via a bridge over the Lusatian Neisse River, but we reached this village from the other side.
We spent the night in the village of White Water (Weißwasser), which is located to the west, and from there we took the forest narrow-gauge railroad to Bad Muskau. The ride took about half an hour, so definitely slower than by car, but how much more attractive and atmospheric!
We recommend being at the station a while early, as there is a railroad, a wooden playground that can engulf toddlers and several exhibits to view.
Rakotzbrücke stone bridge
One of the most picturesque and distinctive landmarks in the area is the Rakotzbrücke stone bridge in the Kromlau Rhododendron Park. Here you can observe the reflection of the bridge in the lake so that the illusion of a stone circle is created.
Unfortunately, construction work is currently underway here and there is no chance to see the effect.
Entrance to the park is free, while off-street parking is paid.
Lookout tower – Tagebau Nochten
The areas we write about here are rich in lignite deposits, so it's not surprising to see mines and power plants. The Lusatian coalfield is one of 4 coalfields in Germany
[source]
.
By climbing the observation tower, we can see from above how large areas are being exploited and…. reforested! It is well known that Germany is a tycoon when it comes to lignite mining, but we were surprised during our trip at how they manage and use the post-mining areas (we write more about this in the post below and in the post on Leipzig about the area). From the tower we can see just thousands of trees evenly planted, in areas that were destroyed for coal mining.
The observation tower is located behind the White Water, near Highway 156. From several levels, you can see the Vochozhany Excavation (Tagebau Nochten)
Lake Bärwalder
Lake Bärwalder (Bärwalder See) was created on the site of a former open pit mine and is the largest lake in Saxony.
Nowadays, it is a place for active recreation, where we can not only jump into the water or sunbathe on the fine sand, but also ride bikes, rollerblade, jog, play beach volleyball…. There are also good conditions for surfing and kitesurfing here.
Campsites, tourist resorts restaurants are being built around the lake. You can choose from several sandy beaches with good infrastructure.
The Mysterious Land of Turisede and the Einsiedel Adventure Park
We first heard about this place at a travel fair in Poznan. A unique booth was memorable, and we have saved the place on our list of places to see when Olive grows up. Well, and she grew up, and to this day we can't get out of admiration! :)
The mysterious people of Turisede and the Einsiedel Adventure Park are definitely the hit of the trip when it comes to attractions for kids! The site is right on the Polish border, and even part of it is within Poland. However, these most interesting places, the entire park and accommodation is located in the paid part, in Germany.
So what is this magical place? In a nutshell, it is a large park with playgrounds, swings, ladders, animals and puzzles. There are suspension bridges, underground tunnels, explorations with a map, mysteries to discover, mazes, and delicious food. Kids can fly here for hours and will constantly discover new nooks and crannies, walking at least on the roofs of houses or among the animals!
We recommend eating a little something at the Hollow, a local restaurant. We ate both a served dinner and a buffet breakfast here. Meals were natural, tasty, served in pots and zero (literally: zero!) plastic.
And all this sewn up in the woods, around nature and without the internet! Ha! A place where you won't find any Wi-Fi and the cellular network is very poor.
If you can, stay the night here – there are several lodging options, but we especially recommend the tree houses. A one-of-a-kind experience! We had an outcropping (in a tree!), a shower overlooking a field (one wall and the floor was steel lattice, so it was an unforgettable shower!), a charmingly "cluttered" cottage, with a treasure…. Our only regret was that we were only here for one night.
Can you believe that a less than three-year-old wanted to spend the night alone in her treehouse bedroom at all costs? ;-)
We will write you a separate, dedicated entry about this place, because it deserves it. Very!
Görlitz
There was something for children, now it's time for something for adults. Görlitz (not to be confused with Poland's Zgorzelec) is a beautiful border town, located on the Lusatian Neisse River. We were delighted, first of all, with the old town, the townhouses, the city hall. And you could say a city like many in Germany, but are other cities so quiet and peaceful? It is a pleasure to sit here at a table in one of the squares and enjoy a coffee or a meal in peace.
We were able to take a leisurely look at the beautifully decorated townhouses, admire more than 500 years of history, as it must be added that the city, unlike many other German cities, was not destroyed during the war.
Please define valid width and height attributes for remote images. This will also optimize the loading time of the remote panorama.
Head to the Lusatian Neisse River, see the towering Church of St. Peter and Paul and the historic mill. Afterwards, we encourage you to walk to the city center, where some of the interesting sights include the Holy Trinity Church, the Lower Market Square with the New Town Hall, the Town Hall Pharmacy, and the Reichenbach defense tower.
In Görlitz, one more place in particular deserves attention, far from the center. You could say that it is a zoo, but Tierpark Zoo lacks a lot and… very well!
Tierpark Görlitz
The Tierpark is a large, wooded area where visitors can interact with animals, feed them, stroke them, massage them, while learning and observing a variety of species. We can get a sneak peek into the lives of both farm animals and more exotic ones like camels and kangaroos. Perhaps of greatest interest is the feeding of the porcupines! The enclosures are suitable for the number and size of animals, and all are clean and tidy.
It's worth adding that it's also a place where animals wait to improve their health or stay forever when it's clear they can't cope in the wild.
And all this in a very friendly environment. The space is arranged to teach, educate, and not just focus on the animals. These have places where they can hide from both the sun and visitors.
Kids, on the other hand, don't just focus on animals. There are plenty of playgrounds, educational games, and everything is in the trend of ecology and the popular zero/less waste (even the dishes in the restaurant are biodegradable).
We especially liked the giant covered wooden playground.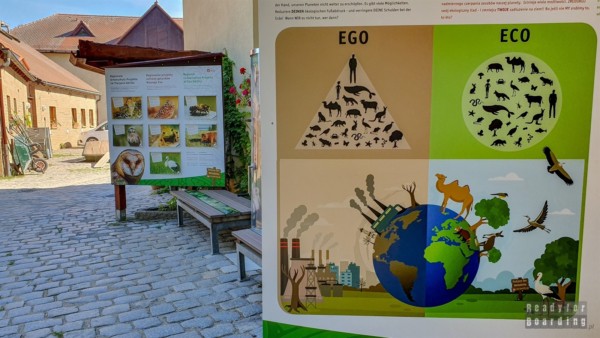 And although by design Olive should have the most fun here, we ourselves did not want to leave ;) This is another place we could write and write about, because a visit to Tierpark is a fantastic experience.
A regular ticket costs €6.90, and for children aged 3 and under it costs €3.90.
Zittau Mountains
On the edge of Upper Lusatia, next to Olbersdorf, is the resort of Jonsdorf, which is not only a good base for exploring the beautiful rock formations, as there are also attractions for the little ones.
In the summer, during the week, it is incredibly quiet and peaceful here. The streets are empty, with only an oncoming train heralding slightly increased pedestrian traffic. Many people just get to the village on the Zittau Narrow Gauge Railway from Zittau to then head to the hiking trails.
You should include in your plans an ascent of the Nonnenfelsen massif (Nuns' Rocks), which offers views of the entire area, including the Jonsdorfer Felsenstadt, or rock city.
However, if hiking is not your thing, we encourage you to visit the Butterfly House (Schmetterlingshaus) in Jonsdorf. At the Butterfly House, you can enter a special circular pavilion where more than 200 colorful butterflies fly freely among specially arranged greenery. In addition to the butterflies, there are also turtles here, which move slowly through a separate area.
But it is not only butterflies that we can observe here. In the main building, both on the first floor and on the first floor, there are terrariums and aquariums where we can observe the life of insects, fish, amphibians and reptiles. For the little ones there is a corner with toys, and in summer it is pleasant to sit on the terrace surrounded by the beautiful garden.
A regular ticket costs €7, and a discounted ticket for children aged 3 and under costs €4.50.
Trixi Ferienpark
What about the fact that Saxony is landlocked? Here you will find many lakes (often artificial, as we wrote above), so there is no shortage of water attractions here.
Another place to splash in the water and relax is the Trixi Park complex located in the southern part of Upper Lusatia, near Jonsdorf.
It is a sizable area with indoor and outdoor pools, where there are also slides, trampolines, playgrounds, and a spa area. The place is in the middle of nowhere, surrounded by forest on one side, so you can enjoy nature and tranquility (although there are a lot of people here during the pool's opening hours).
The outdoor pools can be used until 18:00, and the indoor pools until 20:00. So when they close the outdoor ones, we walked over to catch some more rest in the second pools. Inside, there are quite a few attractions like a slide, a wading pool for toddlers, a Jacuzzi and saunas. The place is fully adapted for families with children – baby cribs and changing tables are available.
[dimage url="https://www.readyforboarding.pl/wp-content/uploads/2019/07/trixi-park-43-201906-readyforboarding_pl.jpg" control="true" auto-rotate="true"]
As for prices, we encourage you to take a look at the website, as prices depend on the length of stay(click).
Particularly noteworthy is the overnight stay at the modern and eco-friendly Waldstrand-Hotel Großschönau. We stayed for one night, in two connecting rooms with terraces overlooking the pools. Clean, neat, modern, and the evening and morning on the terrace at sunrise and sunset was a perfectly spent time. This is another accommodation in Upper Lusatia where we would love to stay longer.
It is also worth mentioning that you can also spend the night in cabins or pitch a tent nearby – there is something for everyone.
Dinosaur Park – Saurierpark
If anyone still had doubts about being bored in Saxony, here is another suggestion, where you can quietly spend half a day or even a whole day. We are talking about the Dinosaur Park, and right away we emphasize that this is an attraction not only for the youngest :)
At first we wondered if it was definitely a good place for an under-three-year-old, whether she would be bored or afraid of realistic dinosaur models. On top of that, temperatures were very high during our stay, and we didn't want to increase sun exposure.
Fortunately, these concerns did not make us cross Saurierpark off our map points. Fortunately, because we would have greatly regretted not seeing such an interesting place.
Well, so there are dinosaurs, and there are a lot of them, as many as 200, and of course life-size (this park is the largest dinosaur park in Germany)! They are located in a large area, in the forest, and often densely you have to look out for them hidden among the trees. Interestingly, the dinosaurs are depicted in motion, often in various situations, such as eating or fighting other dinosaurs.
But Saurierpark is not just about going from dinosaur to dinosaur. It's also playgrounds and education.
The great thing is that at every major dinosaur cluster there are at least some mini playgrounds for the little ones, so even if your kids aren't interested in these prehistoric creatures, they won't be bored.
On top of that, there are monkey groves, slides, obstacle courses, large sandboxes in which you can search for dinosaur remains and play as a little archaeologist, and the so-called "little archaeologist. Galactic mist, or super refreshment on hot days.
As for the park itself, there is plenty of shade in the area, walking mostly in the woods, although the initial section must be traversed without canopies or trees. The paths are paved and accessible to travelers with strollers.
Entrance to the park costs 15 euros per adult and 11 euros per child aged 4 and under.
If you happen to have a little more time, there is a sizable maze next door – Irrgarten Kleinwelka, the largest in Germany!
Our opinion? Worth it!
As you can see, we have not described all of Saxony, but only a part of it, namely Upper Lusatia. During the planning process we ourselves were surprised at how many interesting places there are in the area. Places often unknown and yet undiscovered by Poles, which is a pity, because such proximity only encourages weekend getaways.
We hope that we have inspired you to plan a vacation in Saxony whether active or passive, with or without children :)
We also recommend the entire gallery of photos from Upper Lusatia, of which there are well over 200!
Zobacz galerię wszystkich zdjęć z Górnych Łużyc >>>
We also recommend our other entries from Saxony:
The material was created in cooperation with the German Tourism Board, at whose invitation we toured Saxony.