A vacation in the Faroe Islands can be more expensive than an exotic all-inclusive trip. Fortunately, it all depends on you and your way of traveling. A lot of costs can be reduced, but there's no denying that it's just expensive locally.
When we were figuring out how much a trip to the Faroe Islands would cost us, we read in one interview that while Denmark seems expensive to us (which it is!), Faroese prices are an additional 30% of what they are in Denmark.
[source]
. We were, on the one hand, terrified, and on the other hand, however, still determined to fly to the Faroe Islands.
I am always reminded at such moments of a conversation with Americans in Iceland who gave us a ride near Vik'u. We then complained about prices in Iceland (after all, Poles, complain must ;-)), and they said that they just don't look at it. They couldn't even say how much they paid for the rental car or for the overnight stay. They said that when arriving in Iceland, you have to expect that it's expensive and that's it; you have to eat, you have to drink, you have to sleep. You can combine to make it cheaper, but if you have to count every penny (tuff, dollar) at every turn, it's worth rethinking whether Iceland is a good destination. It gave us food for thought at the time. The trip to Iceland took a toll on the household budget, but do we regret even a zloty spent there? Not a bit of it! After all, as someone said, "Travel is the only thing we spend money on, and we become richer."
>>> Polecamy również nasz eBook "Wyspy Owcze" za jedyne 19,99 zł! Wszystko w jednym miejscu, a w nim 149 stron pełnych inspiracji, opisów i praktycznych porad.
So we flew to the Faroe Islands with a slightly different perspective. However, this does not mean that we have been raking in cash left and right. What is not, however, we prepared in advance. We found out what the prices were locally and took some of the food with us from Poland, especially since we had checked luggage for Olivia as well. We haven't had so much baggage in a long time. We cooked ourselves, but we also happened to eat at a cafe or restaurant.
Below we give you a sample of prices in the Islands and ways to pay less (where possible).
Flight to the Faroe Islands
No low-cost airlines fly to the Faroe Islands, so you can get there only with Danish SAS or Faroese Atlantic Airways (sometimes flights of both airlines are combined, i.e. on one ticket you can fly, for example, from Warsaw with a stopover in Copenhagen).
Unfortunately, the chances of any savings or discounts on a flight are slim, so you have to take what's there. It is worth comparing flights on different days, because it may turn out that by extending your stay by one or two days you will pay several hundred zlotys less. On the other hand, it is worth considering whether this money will have to go entirely to accommodation for those extra days.
Initially we wanted to fly for 5-6 days, in the end much cheaper flights turned out to be for a whole week – for one ticket we paid 1600 zloty (with checked baggage). However, we are glad that we extended our stay, because 5 days is definitely not enough!
Accommodation in the Faroe Islands
Choosing an overnight stay was a real pain! We searched on Booking.com and Airbnb as standard, but the prices threw us for a loop. We tried to buy accommodation directly from the facilities, but it was even more expensive.
In the end, we took an apartment in Thorshavn, in a newly built high-rise through Airbnb. I make no secret that the price was the deciding factor. Initially we wanted to spend the night in an atmospheric house with grass on the roof in the complete middle of nowhere, but…. it was just too expensive…. Surprisingly, hostels did not come out much cheaper at all.
We were very pleased with our final choice, the apartment. It was one of the better accommodations we bought through Airbnb. Great equipment, clean, everything in working order. For the baby we got a crib and a highchair, so fabulous :) It cost us 416 zl per apartment per night.
When flying to the Faroe Islands, you have to take into account that there are few hotels here (although hotels is a very exaggerated word), and in high season most are busy. The selection on Booking.com is limited to a dozen properties, with the cheapest accommodations starting at 400zl/night. Better with choice is on Airbnb, with prices starting at around. 300 PLN. Some are booked up to a year ahead! Just like in Iceland: the earlier the better the chance for cool conditions at a favorable price. Just out of curiosity: there are currently only 15% of listings left available on Airbnb for June 2018, so hurry! :-)
What else can be done to make it cheaper? Ride in more people! We share the costs (not just the accommodation) among more people, and often do not pay for additional people, such as when one bed is a couch in the living room. In addition, pay attention to whether you have access to a kitchen – dining out is a big expense, so it's better to cook on your own.
Of course, for the bravest there remains a tent (we even saw some on the way :-)).
Car rental
A car is also a big expense, so it's better to divide it among more people ;)
We relied on a local rental company Make.fo this time and did not take the cheapest option. Learning from our experience in Iceland, we took a 4×4 vehicle so that we wouldn't be stopped by any dirt or mud roads.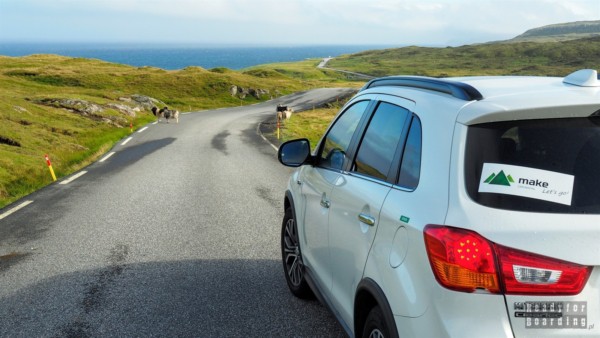 Another plus of using this rental company is that they don't have their own point at the airport, but use the hospitality of the tourist information center (also at the airport), so we didn't have to stand in such long lines:
The price per day of car rental depends on many factors: the type of car, the date, the length of the rental, etc. In the big picture, the smallest car, is an expense of 300 to 600 zloty per day. Quite a lot, it's true.
We can't imagine going to the Faroe Islands now without renting a car, so we recommend this option to you, especially with pick-up and drop-off at the airport. Remember that when you divide this cost, for example, by 4 people, it is already more bearable ;)
Gasoline costs about – DKK 9.5, or approx. 5.3 zloty/liter.
Toll roads (tunnels, bridges)
Speaking of cars… It can be assumed that roads in the Faroe Islands are free, but you already have to pay to travel through the tunnels between the islands. There are currently two of these, but there are many more planned.
In our rental, as if included in the price, we had one free ride, but for each subsequent ride you already have to pay 100 DKK (about 60 PLN) round trip. It is worth keeping this in mind when you plan to visit the various islands. Payment is automatic, i.e. There is no cash register where you pay the fee, instead the system counts how many times a car has driven through the tunnel and the rental company adds this amount to your bill or you have to pay it yourself at the nearest gas station.
Other tunnels and bridges are free.
Parking lots in cities
Parking is free, but in some cities(Klaksvík, Tórshavn, Runavík and at the airport) parking is limited in time (e.g., up to 30 minutes). When parking, set the time at which you parked on a special paper clock behind the windshield. Such a clock should already be in the car, but if not, you can get one at the tourist information.
Prices in restaurants
Our experience with restaurants is meager ;) We happened to eat at a restaurant or go for coffee and cake two times. To be honest, even if we wanted more often, the choice of restaurants is quite limited, and the food is generally pizza, salads and burgers. We described to you one of our visits to the restaurant here.
What are the approximate prices?
Burgers – 120-150 DKK, 77 zl.
Salads (also with meat, fish, seafood) – 80-140 DKK, 70 PLN
Hot sandwiches (something a'la panini) – 70-100 DKK, £48
A plate of local snacks – 190 DKK, 108 zloty
Foie Gras – 150 DKK, £85.
Beef tartare – 125 DKK, 71 zl.
Fresh fish in a restaurant – 280-310 DKK, 168 PLN
Fish soup – 310 DKK, 176 zloty
Local beer – 40-50 DKK, 27 PLN
Black coffee – 20-30 DKK, 14 zl.
Cappuccino/Latte – 30-45 DKK, £21.
Piece of cake – 35-45 DKK, 23 zl.
Restaurants also serve multi-course dinners and it's popular practice that you have to book a table (online). Sample prices are DKK 500 (PLN 285) for a 3-course dinner (with wine DKK 850, PLN 484), DKK 750 (PLN 427) for a 5-course dinner (with wine DKK 1,200, PLN 683).
For foodies: in the Faroe Islands there is a restaurant KOKS, which was awarded a Michelin star, tasting dish: 1,400 kroner (!!!), or almost PLN 800. Where is this restaurant located? On Streymoy Island, we wrote about it here.
Shopping and eating
If the above prices make you dizzy, we recommend cooking for yourself :) There are many markets in the archipelago where you can stock up, such as. Bonus (the same as in Iceland) or FK Super Market (we think the latter is a bit cheaper). We also recommend the SMS shopping center located in the capital – in our opinion the largest selection.
Sample prices:
a large package of sliced yellow cheese – 19-24 DKK, 12 zloty
bread, large loaf – 35 DKK, 20 zloty
butter – 20 DKK, 11 zloty
roll – 5-6 DKK, 3 zl.
1l yogurt – 15-20 DKK, 10 zl.
milk 1l – 11 DKK, 6.5 PLN
frozen pizza – 30 DKK, 17 zloty
basic pasta sauce – 8-10 DKK, £5
packet of noodles – 10-15 DKK, 7 zl.
avocado (3 pcs) – 35 DKK, 20 zloty
coca-cola, 2l – 30-40 DKK, 20 zl.
large mineral water – 17-25 DKK, 12 PLN
Dinners in jars for children – 14 DKK, 8 PLN
disposable diapers approx. 50 pcs. – 40-60 DKK (cheap!), £28.
These are just sample prices for basic products, but there are often promotions during which they are even cheaper.
Interestingly, disposable diapers are very cheap here (for Denmark and the Faroe Islands). Organic, without dyes and chemicals can be bought for about 60-70gr/piece, and in promotions even for 50gr/piece which comes out cheaper than in Poland.
What about souvenirs? If you want to buy some woolen goods, magnets, or other trinkets, they can be purchased at almost any tourist information point. Surprisingly, it can work out cheaper to buy at the airport, so as soon as you land it's worth looking around in the store for what you're interested in, memorize the prices, and then compare with products in other cities.
Artisan products, wool products can be purchased, among others. in Thorshavn (e.g., on Niels Finsins Gøta Street, where typical woolen sweaters and gloves hang in display windows). In some settlements, too, you will find mini stores for tourists, which are often simply located in normal houses.
Cost of other attractions
What's cool about the Faroe Islands is that most of the attractions are beautiful landscapes, trails, views that are free :) Parking at the trails is free, also climbing to the most beautiful viewpoints is free.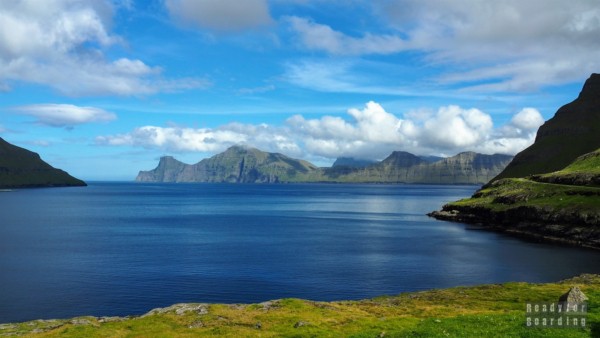 If, on the other hand, you would like to see or experience more, you can find prices for sample attractions below:
Boat cruise from Vestmanna (1 adult) – 295 DKK, 168 PLN
National Gallery in Tórshavn (1 adult) – 65 DKK, 37 PLN
Museums – about 30 DKK, 17 zl.
Why so expensive?
Many factors contribute to the high prices, among which the most obvious is that most products are imported (remember how we wrote that mutton is even imported from New Zealand?!).
Arable fields are scarce here, with more reliance on farming, and agriculture is treated more as a hobby. We have to admit that we can find some local products in stores like dairy products or bread, but this does not mean that they are cheaper, because production is not among the cheapest either.
Still worth it!
Should we then give ourselves a trip to the Faroe Islands? Absolutely not. Just like in Iceland, we do not regret a single zloty spent on this trip!
This entry is only to make you aware of what the prices are locally, so that no one is surprised or even disappointed. On the other hand, maybe that's the charm of places where there aren't many tourists…?
See all our posts about Faroe Islands:)